Welcome
to our hotel and restaurants
The Fichtelgebirgshof is a hotel which offer you comfortably hotel rooms, different restaurants, a big terrace at our own see. We are located between Bayreuth and Kulm­bach directly on the freeway "A9", on the half between Munich and Berlin.
Our guests use us for making a stop for eating, short holiday or for an Overnight-Stop. We offer different rooms for conferences and festivities. Have a look inside!
Place your reservation here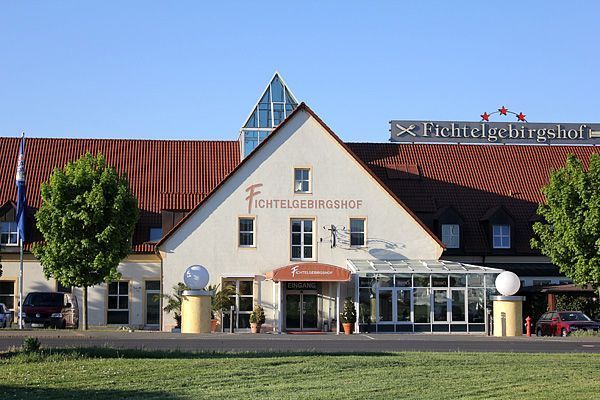 Our hotel rooms
The rooms offer you a high comfort to feel like home. All the rooms are nicely furnished in Bavarian style and have a bathroom with shower, phone, tv set, desk and other amenities.
Our rates are calculated per night and room including our continental breakfast.
Children till the age of 6 years are free for staying overnight if they sleep in the parent's bed.
Our rates
Single room: €90.00 per night
Double room: €140.00 per night
Family room for three persons: €155.00
per night
Family room for four persons: €180.00
per night
Our rates are included breakfast from 6 till 10:30 am. When you will leave our hotel earlier, you can order a take-away breakfast package at your Check In.
Our restaurants
Take a seat where you want... choose the right restaurant for your visit.
Our restaurants are open daily from 07:00 am till 11:00 pm. Hot food is served from 11 am till 14 pm & 17:30 pm till 21 pm.
You can choose between regional, national and international cuisine, different draft bier, homemade ice cream and cake.
Of course, we offer a special menu for kids.
Bayernstube
If you want to dine in a comfortable Bavarian style with wood-paneled walls enveloped in a soft light - this room will be the right choice.
Wintergarten
Flooded with light and a great lake view. In the evening, you can reserve a table at our fire place.
Kösseine
An elegantly furnished room with separate corners who gives you more privacy. Perfect for a romantic dinner or have a business lunch.
Roof Garden
Have an overwhelming lake-view and take a seat between our citrus and palm trees.